Academy In-Person Restart Info: There will be some changes in order for our building to safely remain open for our students and staff (Updated EMP Room Assignments & Return to Small Lunch Cohorts). We will go back to: Smaller cohorts for our Early Morning Program. All students who arrive for our Early Morning Program between 6:45am and 7:20am should report to the locations below. Room Assignments: Gym - Nigro (All Seniors) 301 - Fenning (11th graders: Last Name A - I) 302 - Shute (11th graders: Last Name J - Z) 304 - Brannigan (10th graders: Last Name A - Gil) 305 - Naylor (10th graders: Last Name Gonz - M) 306 - Goode (10th graders: Last Name N - Z) 307 - Zakrzewski (9th graders: Last Name A - Cl) 308 - Winfrey (9th graders: Last Name Co - G) 309 - Mazahreh (9th graders: Last Name H - M) 310 - Ardis (9th graders: Last Name N - Ri) 311 - Major (9th graders: Last Name Ro - Z) Smaller cohorts for our Lunch Program with eating in classrooms at times. Please report to your original study hall/lunch rooms that you were assigned in September. If you don't remember continue to report to the study hall/lunch that you were assigned in December and the dean in the cafeteria will inform you where you should report moving forward. There will be no use of lockers until further notice. NO regular After-School Program this week. We will continue with our health and safety measures below: Masks (covering nose & mouth) Temperature checks at the door Social distancing Sanitizing supplies in all rooms Partitions used when eating in the classroom Please notify the nurse (
tyoung@camdencsn.org
) immediately if you are not feeling well, if you are exposed or diagnosed with COVID. We ask for understanding and compliance with all quarantine and isolation rules. The health and safety of our community is a priority. This will allow all of us to stay safe during in-person learning. If you have any questions, please don't hesitate to contact your Academy Advisor or grade level dean.

School will be closed tomorrow, Friday 1/7/22, due to inclement weather. Grab your sleds and enjoy the snow! We will return to in-person learning on Monday and can't wait to see our community. La escuela estará cerrada mañana, viernes 7 de enero del 22, debido al mal tiempo. ¡Coge tus trineos y disfruta de la nieve! Regresaremos al aprendizaje en persona el lunes y estamos ansiosos por ver a nuestra comunidad.

It's that time of year - place your order for a Senior Yearbook Ad! See the flyer for more details.

All home games this week are closed to all spectators. Only essential personnel will be allowed entry. Below is the livestream link for today's boys' basketball game vs. Woodstown. JV plays at 4:00 pm and Varsity plays at 5:00pm. The same link will be used for all streamed home swim meets and home high school basketball games when available.
http://bit.ly/3a02vwq

CCSN is virtual until 1/10/22. Parents can pick up breakfast & lunch at Camden's Promise from 8:00am - 1:00pm.

After careful consideration, and review of the current Covid surge levels in our community, it is out of an abundance of caution that Camden's Charter School Network has decided to go to an all virtual structure for our first week back from break. This will include January 4- January 7, 2022. We will re-open for in-person learning on Monday, January 10th. We hope that this virtual learning time will give our community time to quarantine from traveling and family gatherings so that we can safely return to in-person learning on January 10, 2022. Our teachers and administrators will be reaching out through Canvas and Dojo with further instruction. Thank you for your patience and understanding as we pivot to a virtual program.
CACHS Beta students deliver holiday toy donations to the LUCY Outreach program!

Camden Academy January Lunch Menu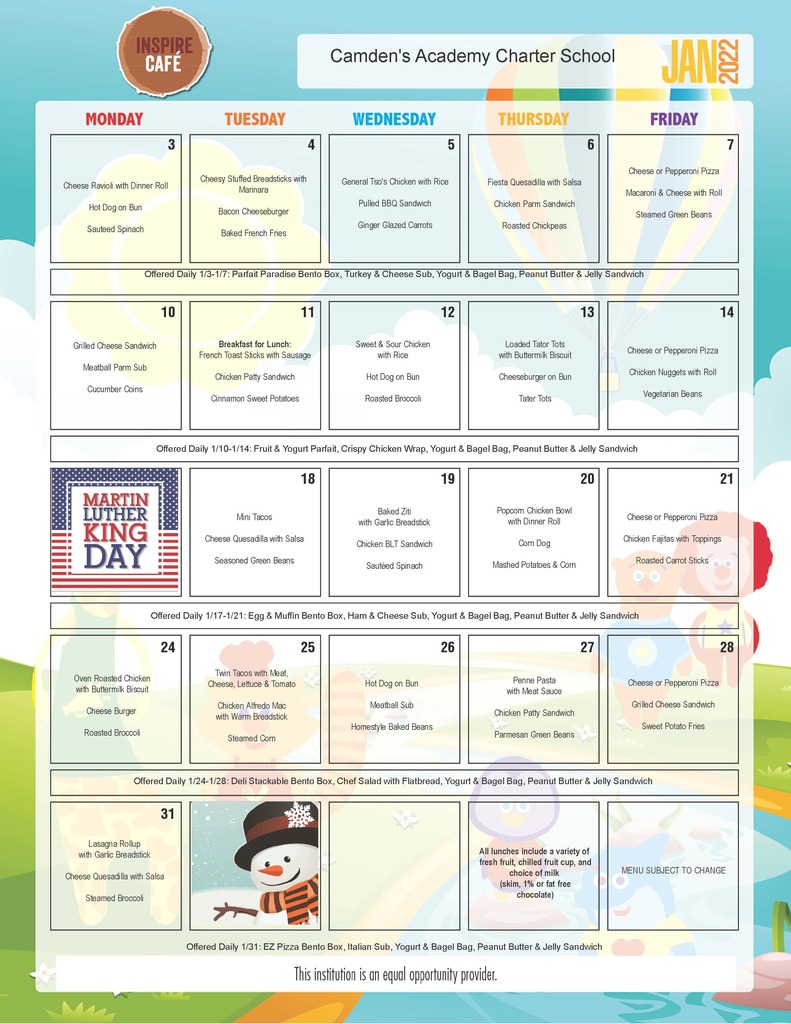 Culinary Arts at Camden Academy Charter High School made charcuterie boards last week!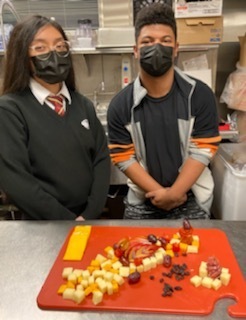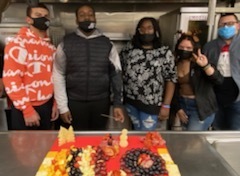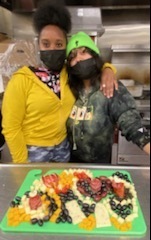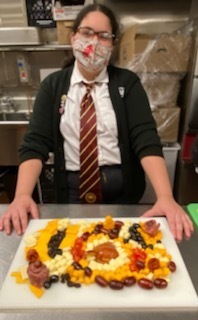 After School Programs for the week of 12/20-12/23 Camden's Pride - No After School for the week. KATZ Dalsey - After School running on Monday & Tuesday only. No After School on Wednesday & Thursday. Camden's Promise - Basketball on Monday for games. No other After School for the week. Camden Academy - No After School for the week.


Cougar Holiday Toy Drive Collection - Monday, December 20th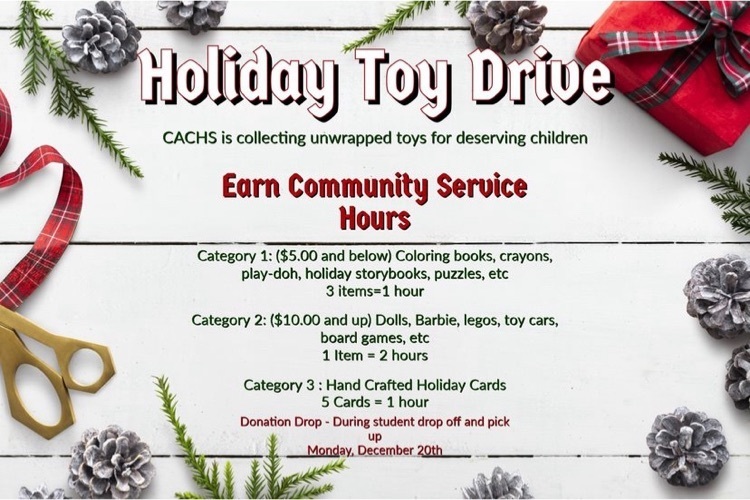 Camden Academy's Spirit Week starts on Monday! Check out the schedule!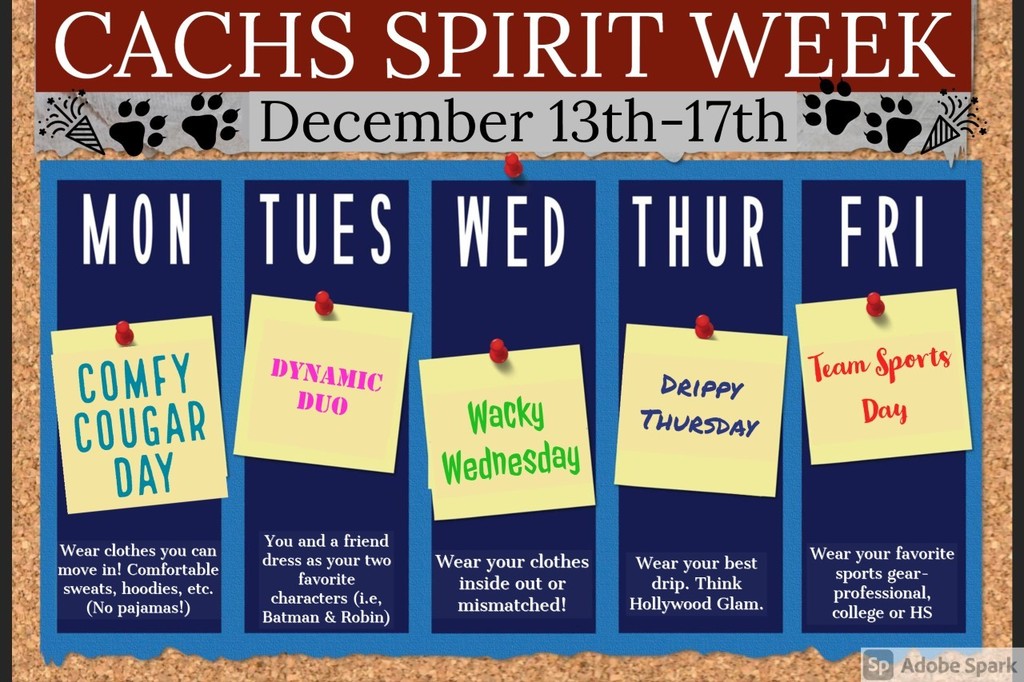 It's that time of year - place your order for a Senior Yearbook Ad! See the flyer for more details.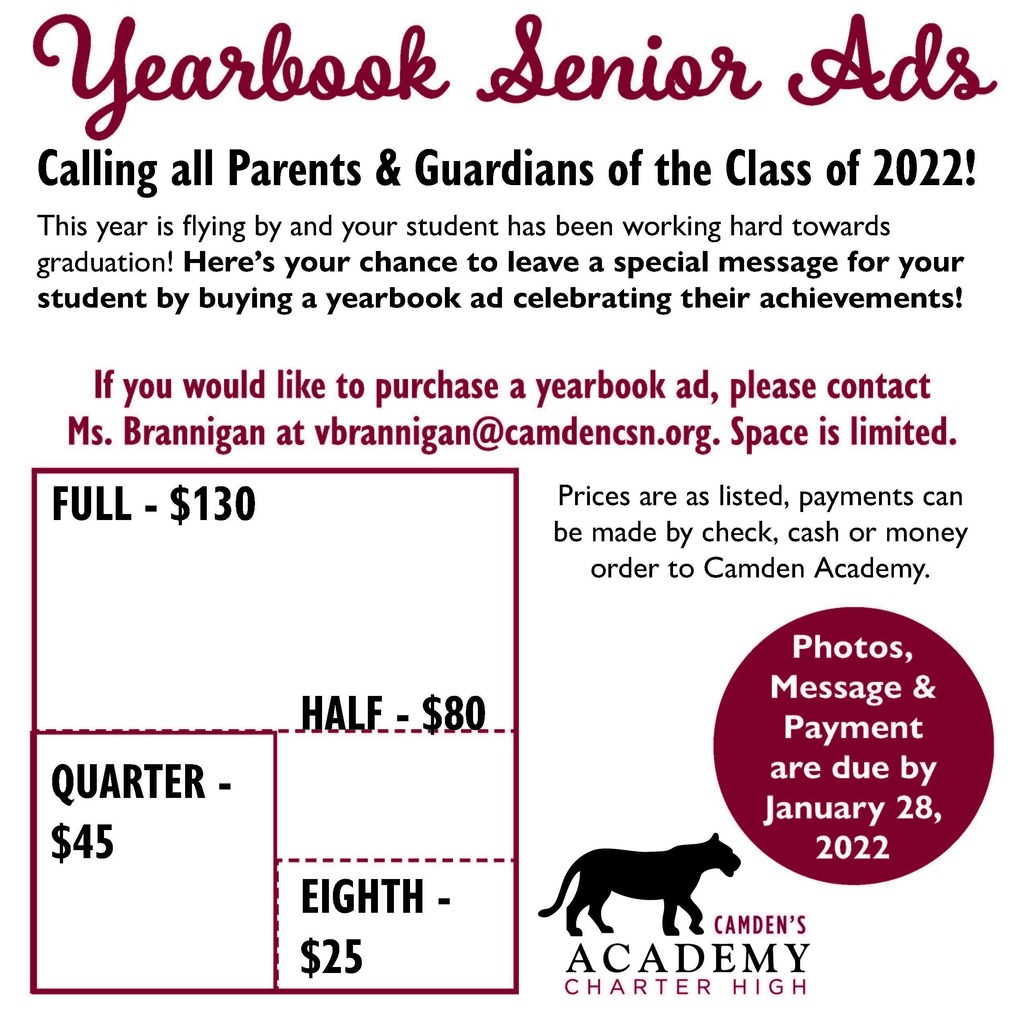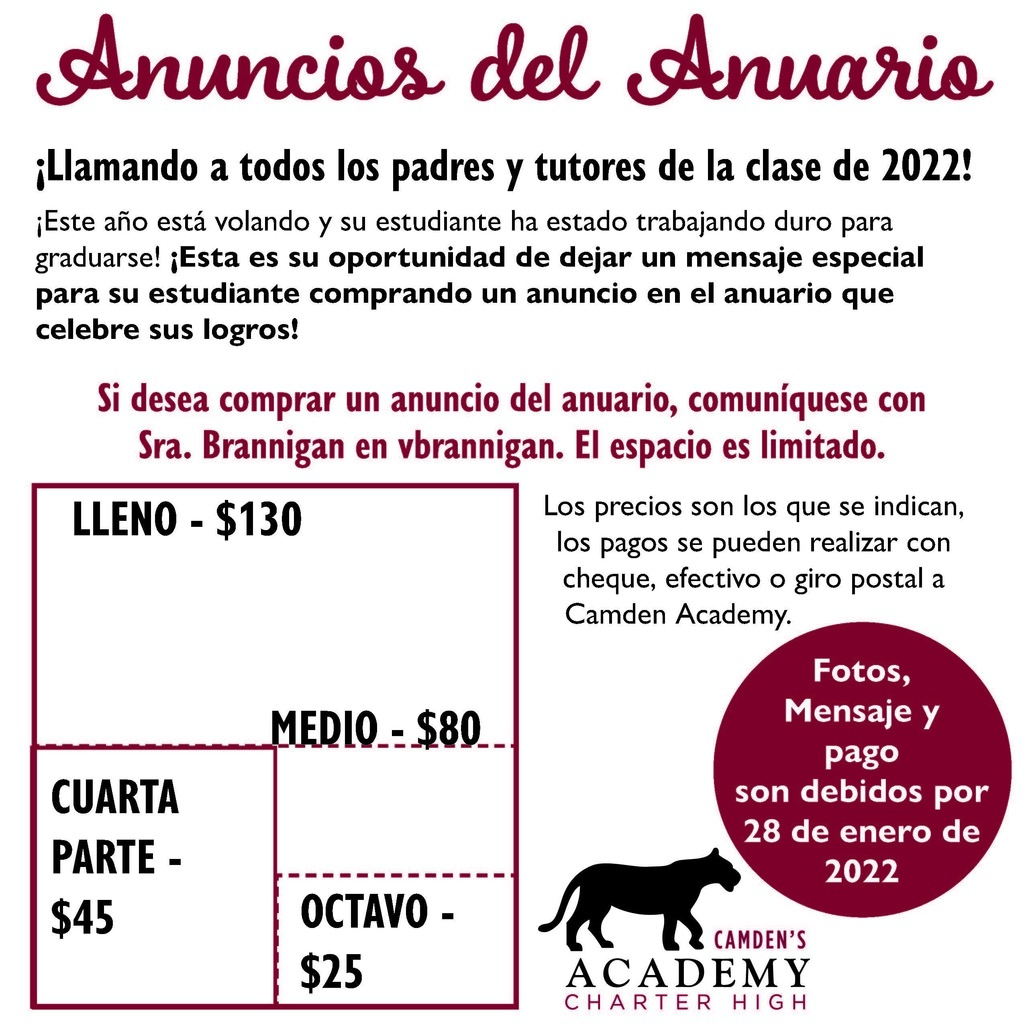 Camden Academy is hosting a bilingual, virtual FAFSA Information Session! Tuesday, December 7 at 6 PM on Zoom. Please email
kobrien@camdencsn.org
to register

Reminder - Next week (12/6-12/10) is the last week to participate in the Angel Tree Toy Drive! Bring in an unwrapped new toy and leave it in the box in your school's office.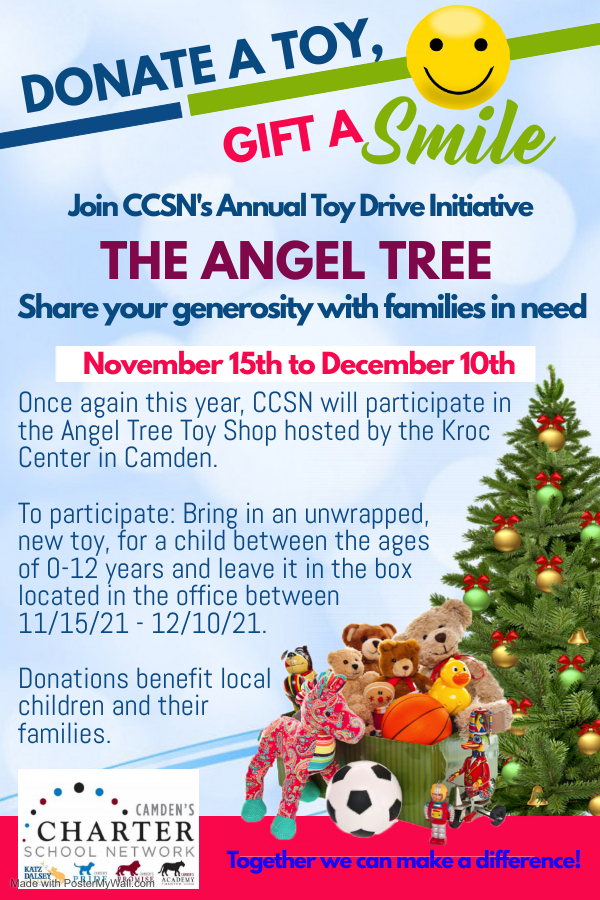 Save the Date: Camden Academy Homecoming Games will take place on Friday, December 17th!