Maria Gonzalez, College Counselor, mgonzalez@camdencsn.org
Kyra O'Brien, College Counselor, kobrien@camdencsn.org
Camden Academy Charter High School
250 Federal Street, Camden, NJ 08103
856-365-1000
ACADEMIC PROFILE FOR COLLEGE & UNIVERSITY ADMISSION
SCHOLARSHIP OPPORTUNITIES
The Preliminary SAT (PSAT) is a standardized test that provides firsthand practice for the SAT. The PSAT measures critical reading skills, math problem-solving skills and writing skills. This test offers underclassmen a chance to enter National Merit Scholarship Qualifying Test scholarship programs and gain access to college and career planning tools. Sophomores are encouraged to take the PSAT. This is not a mandatory test.
WELCOME TO THE 2021-2022 SCHOOL YEAR!
POST SECONDARY PLANNING AND CAREER DEVELOPMENT
TASKS FOR CAMDEN ACADEMY CHARTER HIGH SCHOOL STUDENTS:
Talk to your parents and teachers about going to college

Build strong relationships with your teachers

Visit colleges either in person or virtually, read about different colleges and universities

Make good personal and educational choices; use your time wisely

Serve in your community

Maintain great attendance at school, work, etc.

Get involved and find your passions

Prepare for standardized tests

Challenge yourself
BELOW YOU WILL FIND PLANNING TASKS FOR CAMDEN ACADEMY CHARTER HIGH SCHOOL STUDENTS BROKEN UP BY GRADE LEVEL AND TIME OF THE SCHOOL YEAR: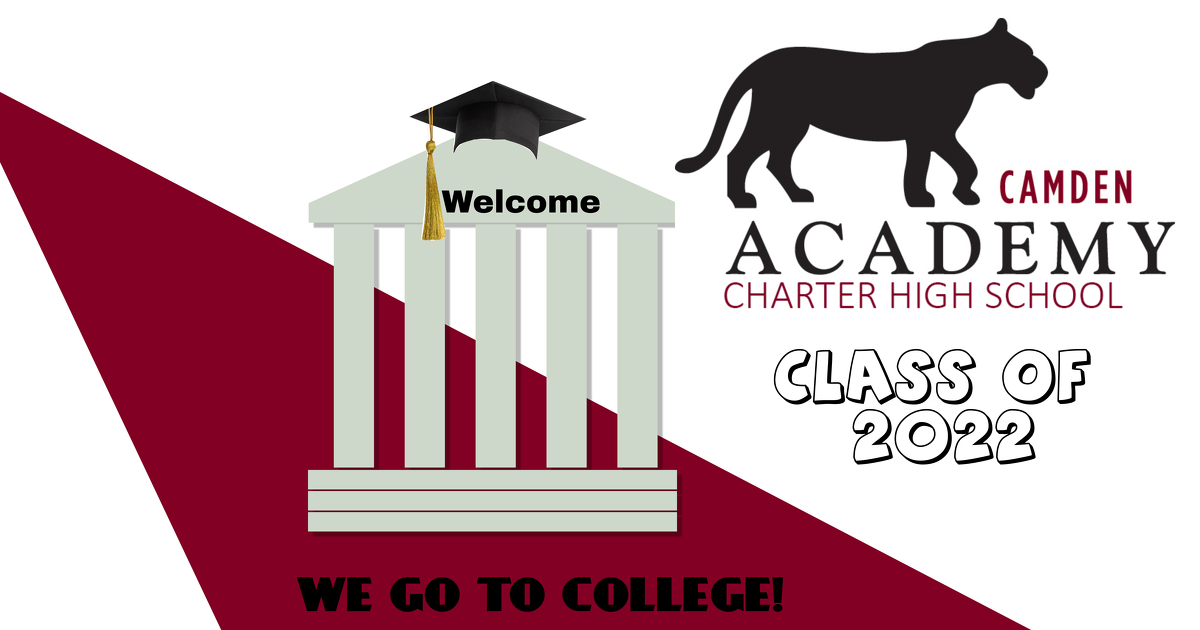 CLASS OF 2022 - SENIOR YEAR
Use the College Match section of Naviance to continue researching colleges

Start preparing for ACT and SAT

If you are applying to a 4 yr college create your Common App account at CommonApp.org,

If you plan to join the armed forces, research the branch you are interested in and contact a recruiting office

If you plan to attend a trade school, research several trade schools and the programs they offer
Students and parents should start finalizing college preferences

Parents: Order a copy of your IRS tax transcript for 2019

Students must decide if they will be taking the SAT Subject tests: certain colleges require them; find out if any of your schools require the subject test

Students must complete one "Student Brag Sheet" survey in Naviance for each teacher from whom they wish to receive a letter of recommendation, and one "Counselor Recommendation Questionnaire request" form as well as formally request a letter from each teacher in the "colleges I am applying to" section of Naviance

Students who wish to participate in a team sport in college need to register with NCAA Clearinghouse

College essay must be completed--Check out the Common App essays questions

Schedule an appointment with your college counselor if you plan to apply to a college through the "early decision" process

Set a plan for the year: fill your calendar with application deadlines

Research EOF programs in NJ, and get to know the process

If you are going to the military, start preparing for the ASVAB, which is the Military aptitude examination

If you are going to trade school, contact the schools you are interested in applying to and set up an appointment with them
The 2021- 2022 FAFSA goes live this month! Start getting your parents' financial information so you are ready to fill out your financial aid

Speaking of FAFSA, you and a parent need to create your FSA ID. You should also order your parents' tax transcript for 2020! If you have a sibling that is in college currently or has attended within the last 4 yrs, your parents should have a FAFSA ID

Final college essay must be complete by October 26

Students applying to Rutgers University by the priority deadline must complete their applications by October 26; priority application deadline is November 1
Students planning to apply to Rutgers University must complete application by November 23; application deadline is December 1
College Deadlines are approaching! If you have a January 1 deadline, your applications must be complete by the week before we go on Winter Break

Have both your college applications AND your FAFSA complete before Winter Break
JANUARY-COLLEGE AWARENESS MONTH AT CAMDEN ACADEMY HIGH SCHOOL
There are still colleges you can apply to; many colleges have January or February 15 application deadlines

Check out the planned instant decision days at your school

If you have not completed the FAFSA, please do so

If you are planning on attending a community college, create your account and fill out your application
College applications should be finalized

Watch for your financial aid packages; students and parents with questions about their financial aid packages should reach out to their counselor
Students accepted to college should be receiving financial aid packages, if you have not received a package from your school of choice, call the financial aid office immediately

If you have not yet decided where you are going to college, keep weighing your options; be sure to visit as many campuses as you can
College selection process should be wrapping up: May 1st is decision day

If you have not visited the colleges you've been accepted to, use spring break to make that happen

Students intending to participate in the EOF program at Camden County College should complete the EOF application
May 1 is National College Decision Day--Stay tuned for exciting programming

College deposits due - the average college deposit is between $100 and $500; plan accordingly

Once you have selected a college, you'll have paperwork to fill out for your new school

Just because you are graduating doesn't mean we are not here to help...please reach out to us when you have questions
CLASS OF 2023 - JUNIOR YEAR
GETTING ORGANIZED: A COLLEGE PLANNING TIMELINE
This timeline is a guide to assist you with making your own calendar of important dates.
Create/update your Resume in Naviance

Complete all assessments

Establish your "I'm Thinking About This College" list

Decide which schools you may want to visit

Take the PSAT one more time for practice (October)

Attend the Camden Academy College Fair (Date TBD)

Attend the Camden Academy Financial Aid Night (Date TBD)

Complete Junior community service hours required for graduation
Complete the Game Plan in Naviance

Begin visiting schools and gathering further information either in person or virtually

Meet with your counselor for a Post-Secondary Planning conference

Begin taking standardized tests (SAT/ACT/ Subject Tests)

Attend a Spring College Fair visit: www.nationalcollegefairs.org

Consider a summer enrichment program or internship

Before leaving for summer break, begin asking at least two teachers for recommendation letters
SUMMER (BEFORE SENIOR YEAR)
Complete a Brag Sheet and provide this to each teacher you are requesting a letter from

Complete a recommendation request through Naviance

Continue visiting colleges and gathering information

Get a head start on completing senior Community Service hours

You may begin as early as the end of your Junior year at Academy!

Continue to volunteer and stay involved, perhaps attend a summer program or internship

Narrow down your "Colleges I'm thinking about" (5-7 schools)

Move "Colleges I'm thinking about" to "Colleges I'm applying to" in Naviance
CLASS OF 2024 - SOPHOMORE YEAR
GETTING ORGANIZED: A COLLEGE PLANNING TIMELINE
FALL


MEET WITH YOUR COUNSELOR

START CLASSES STRONG; CONNECT WITH YOUR TEACHERS; ASK FOR HELP WHEN NEEDED

TAKE THE PSAT IN OCTOBER

VISIT LOCAL COLLEGES

SPRING


FINALIZE YOUR SCHEDULE FOR NEXT YEAR: ARE THERE AP OR HONORS CLASSES YOU SHOULD BE TAKING?

TALK TO YOUR TEACHERS, COUNSELORS, LIBRARIANS ABOUT SUMMER READING

EXPLORE JOB SHADOWING OPPORTUNITIES

WINTER


PLAN FOR NEXT YEAR'S CLASSES. CHALLENGE YOURSELF!

CONSIDER MENTORS; PUT SOMEONE IN YOUR CORNER

UNPACK YOUR PSAT SCORES - USE THEM TO DETERMINE WHERE YOU NEED TO BUILD

LIST WHAT IS IMPORTANT IN YOUR COLLEGE SEARCH

START PLANNING FOR SUMMER; SAT PREP? JOB? SERVICE? COLLEGE PROGRAM?

SUMMER


TALK TO COLLEGE STUDENTS

START TO TALK TO YOUR PARENTS ABOUT PAYING FOR COLLEGE

PREPARE FOR JUNIOR YEAR

INVESTIGATE WHY COLLEGE MATTERS

BANK THE MONEY YOU MAKE AT YOUR JOB ALONG WITH NEW SKILLS LEARNED
CLASS OF 2025 - FRESHMAN YEAR
GETTING ORGANIZED: A COLLEGE PLANNING TIMELINE
Fall


Meet with your counselor

Get engaged with your teachers, ask for help when needed

Explore co-curricular activities

Take the PSAT in October

Spring


Finalize your schedule for next year

Investigate college majors

Take advantage of service opportunities

Create a plan for summer that you will be proud of

Winter


Start thinking about what classes you want to take next year

Research your career preferences: use Naviance and explore your talents

Start planning for the summer

Summer


Evaluate freshman year and pledge to build or restart

Seek summer activities that contribute to your future

Complete your summer reading and assignments

Visit colleges