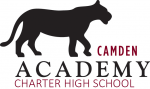 Mission Statement
The purpose of Camden Academy Charter High School is to provide high-school aged students in the City of Camden with a successful educational experience. The school does so by promoting interest within an individual's own education and understanding of a platform for societal participation.
The Foundation
Camden Academy Charter High School curriculum is anchored by the New Jersey Core Curriculum Content Standards and is delivered in a collegiate academy style. The Academy consists of two schools, a School of Business and a School of Science. Individual tracks within the schools are dynamic and continue to meet the needs of incoming classes. A rigorous graduation rubric is maintained, in which all students must complete a major of study within one school and a senior research project.
In addition, Camden Academy Charter High School currently offers eight different Advanced Placement courses: Language & Composition, Literature & Composition, Calculus, Chemistry, Environmental Science, Studio Art, Spanish Language, US History, and Physics.
Maintaining a close-knit relationship with students, guidance programs are employed to aid them in all facets of school and personal matters: academically, socially and psychologically. Camden Academy Charter High School maintains a dynamic learning environment, in which all constituents (students, families, faculty, higher education, and the community) are encouraged to participate and are challenged to always take ownership of the overall educational process.
CACHS's Decennial
In 2014, Camden Academy celebrated the tenth graduation class since the school's inception in 2005. Ninety-eight percent of the class of 2014 walked at graduation with 94% of the school's graduating students enrolled in post-secondary institutions. Seeing similar graduation rates and college enrollment numbers in the school's ten previous classes, it is estimated that Camden Academy Charter High School has placed more than 800 Camden students into college.
Camden's Academy Charter High School
250 Federal St., Camden, NJ 08103
Main Office: (856) 365-1000, ext. 504 Fax: (856) 541-0658
Regular School Hours: 7:25AM – 3:25PM