CCSN is virtual until 1/10/22. Parents can pick up breakfast & lunch at Camden's Promise from 8:00am - 1:00pm.

After careful consideration, and review of the current Covid surge levels in our community, it is out of an abundance of caution that Camden's Charter School Network has decided to go to an all virtual structure for our first week back from break. This will include January 4- January 7, 2022. We will re-open for in-person learning on Monday, January 10th. We hope that this virtual learning time will give our community time to quarantine from traveling and family gatherings so that we can safely return to in-person learning on January 10, 2022. Our teachers and administrators will be reaching out through Canvas and Dojo with further instruction. Thank you for your patience and understanding as we pivot to a virtual program.

Camden's Promise January Lunch Menu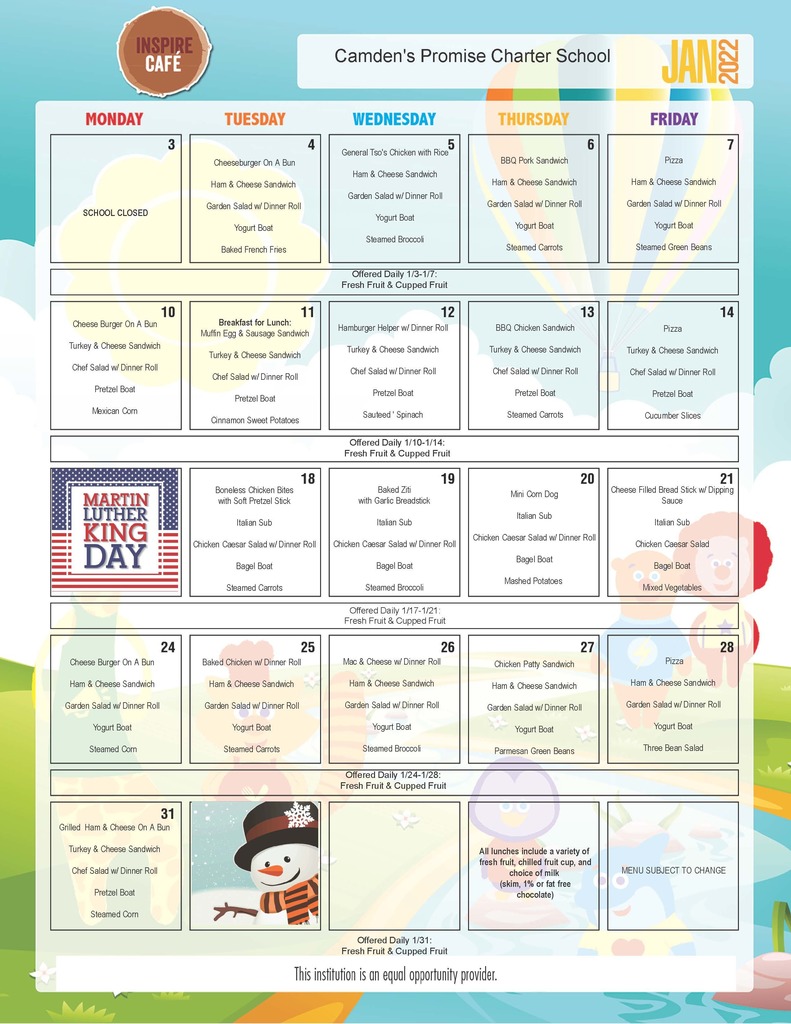 After School Programs for the week of 12/20-12/23 Camden's Pride - No After School for the week. KATZ Dalsey - After School running on Monday & Tuesday only. No After School on Wednesday & Thursday. Camden's Promise - Basketball on Monday for games. No other After School for the week. Camden Academy - No After School for the week.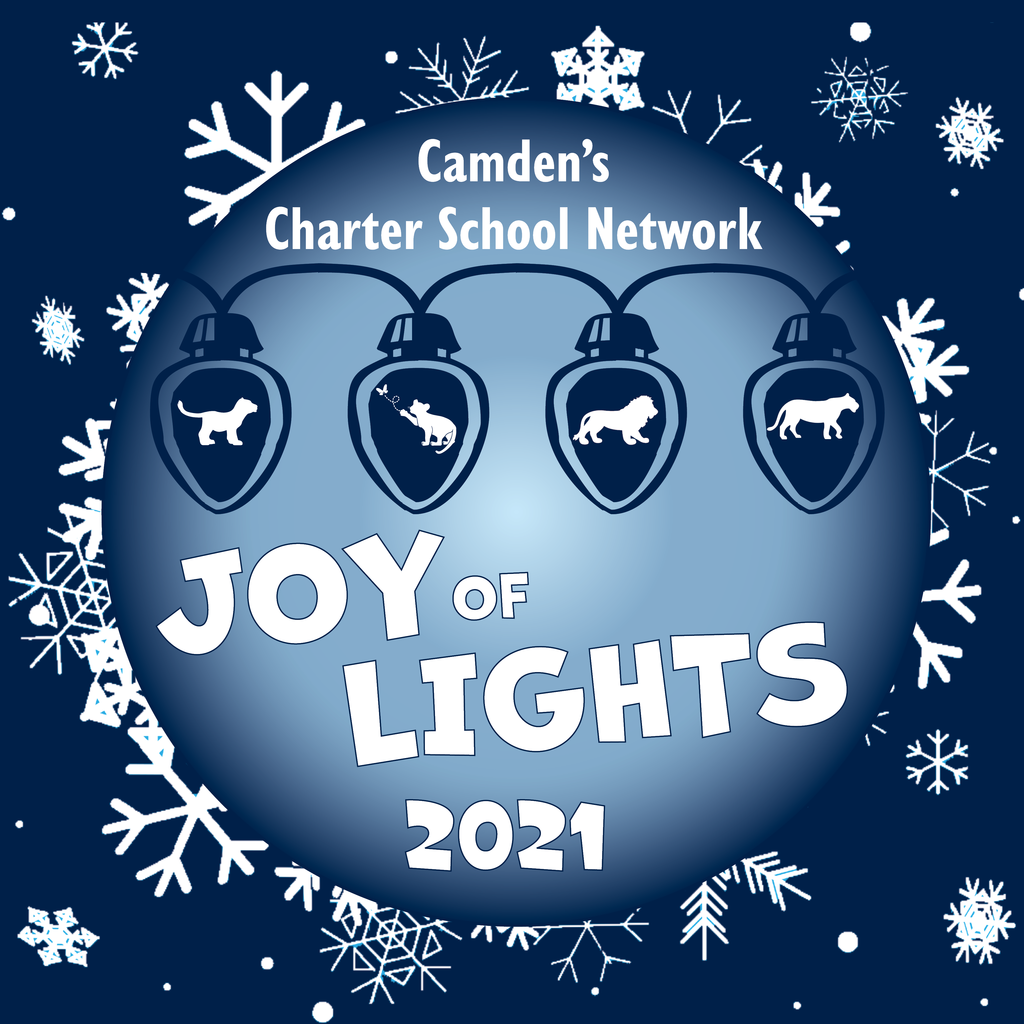 Next week is Spirit Week! See the flyer for more details.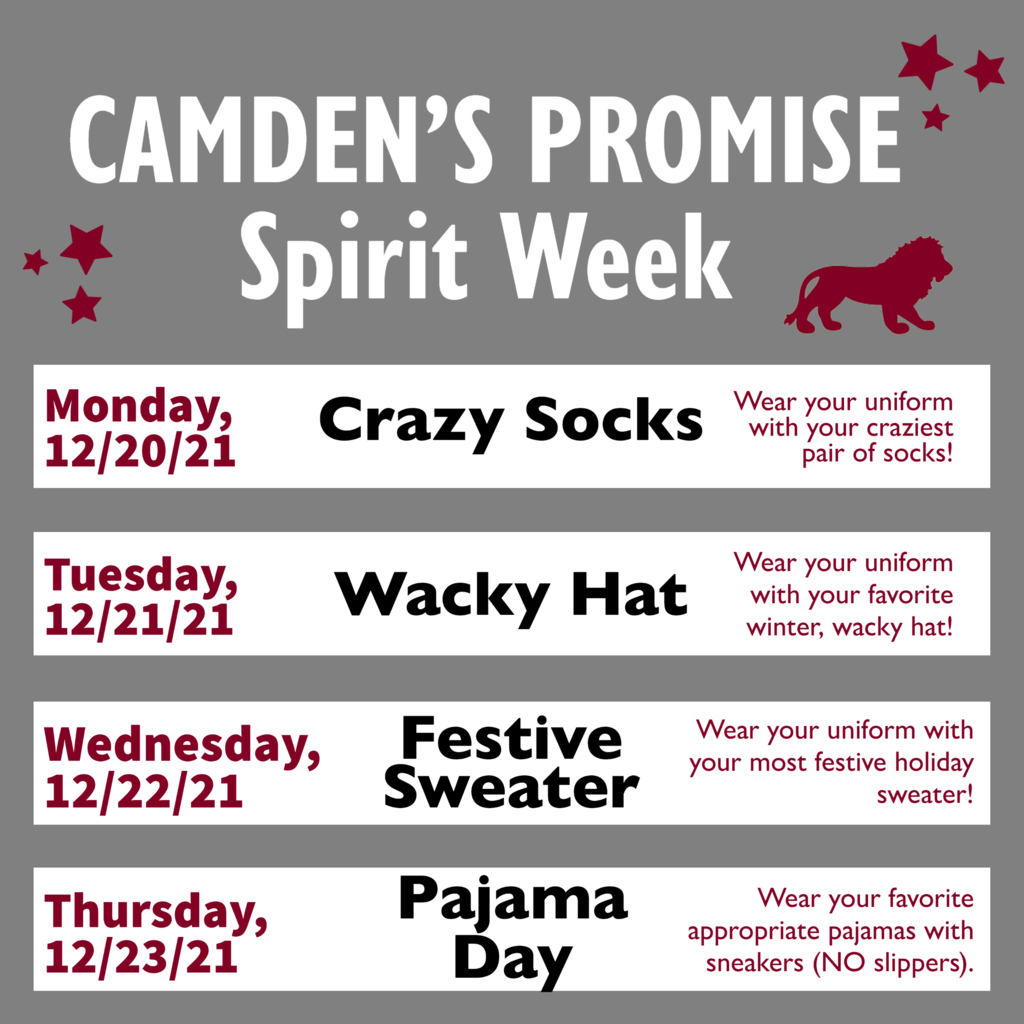 As of now, we are only allowing parents / guardians of our Promise Boys & Girls Basketball programs, along with parents / guardians of the visiting school into the PAC to watch games. Parents / guardians may bring a sibling(s) if it is necessary. Please contact Mr. Borrelli at
jborrelli@camdencsn.org
with any other questions. Thank you!

After School Programs for Camden's Promise and Camden's Pride are cancelled this Thursday, Friday(12/16, 12/17 ) and next Monday and Tuesday (12/20, 12/21).



Reminder - Next week (12/6-12/10) is the last week to participate in the Angel Tree Toy Drive! Bring in an unwrapped new toy and leave it in the box in your school's office.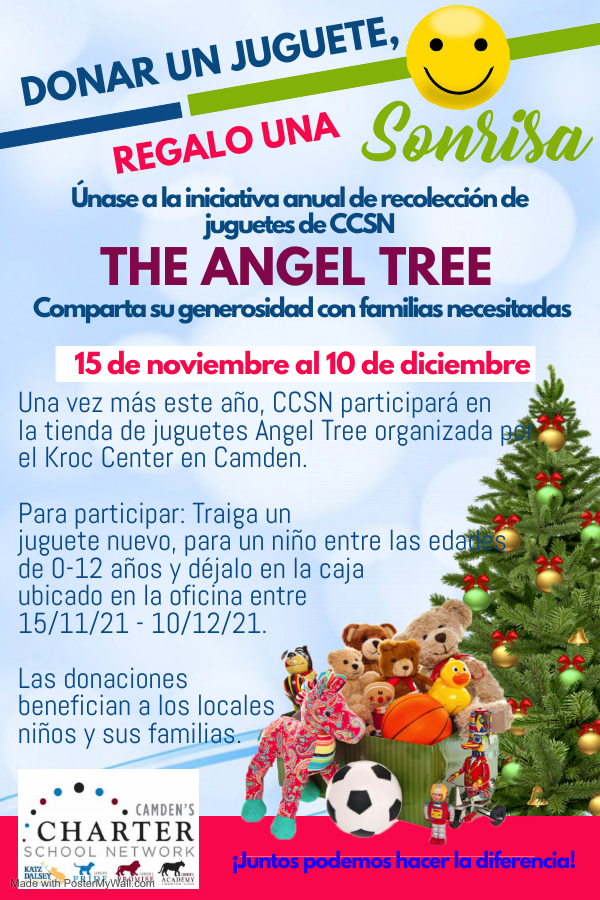 Angel Tree Toy Drive is now through December 10th! See the flyer for more details!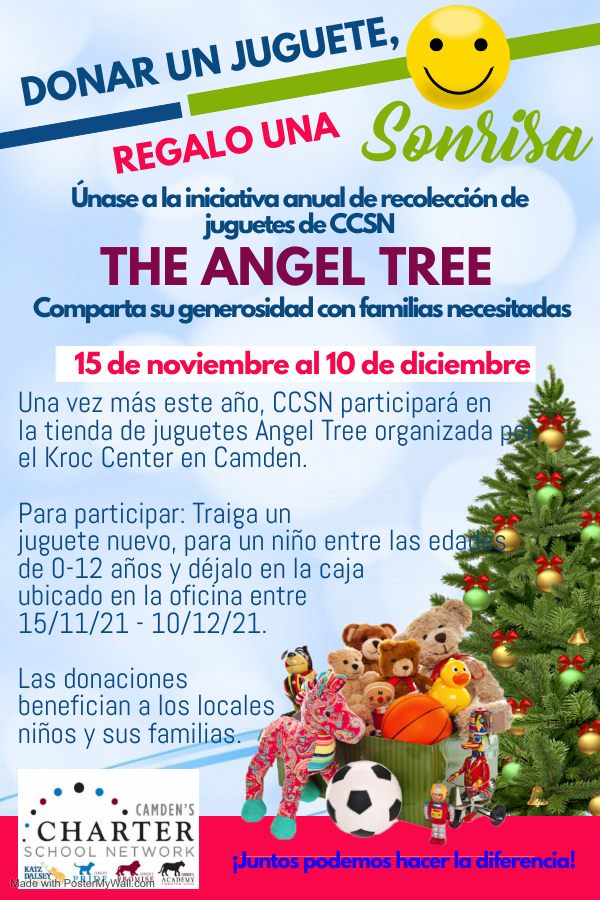 Free COVID-19 Vaccinations for children 5 and up at the Cherry Hill Mall from 11/12-11/14! See the attached flyer for more details

Camden's Promise Girls Basketball is back and it's time! Sign Ups will occur in the Cafeteria on Wednesday, November 10th (today) An Information Session & Shoot Around is this Thursday, November 11th, After School from 4:00-5:30pm. Formal Tryouts are Monday, November 15th from 4:00-5:30pm. Call Backs are Tuesday, November 16th from 4:00-5:30pm. Attendance at all three are required to make the team. Must wear sneakers all three days. After School bussing will be provided or car pick-up. No walkers.

Updated Pennsauken Twp Bus Schedule (Pride & Promise)

Our monthly food pantry is this Saturday! Families can text "schoolpantry" (one word) to 46786 to receive further information about preregistration, and a monthly reminder when preregistration opens, or follow the link to register for a time on Saturday from 9-11am.
https://calendly.com/locfoodpantry/the-cramer-hill?month=2021-11


Our Camden's Promise buses, Pro 6, Pro 7 and Pro 8, will begin running 15 minutes later starting next week on 11/1/21. The weather is changing, and we've decided to make this update so that students arrive closer to 8:00am rather than waiting out in the cold. If you have any questions or concerns, please email Mr. Davenport at
adavenport@camdencsn.org
. See Attached Updated Schedule.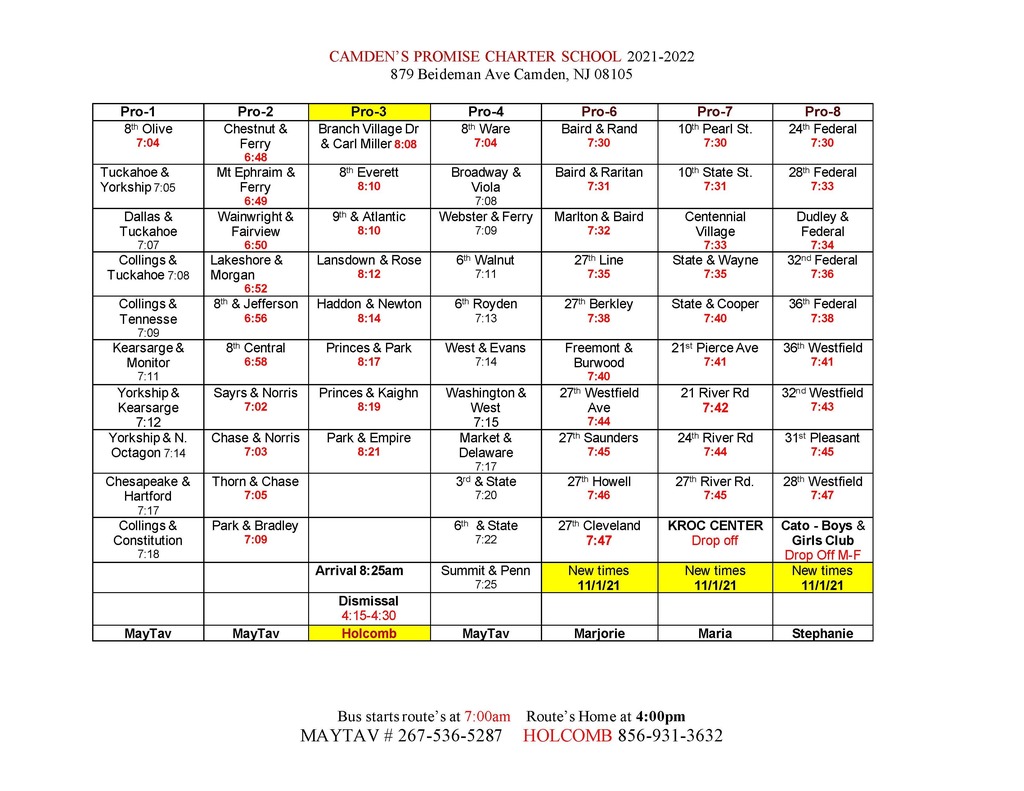 The Haunted Alley Halloween Drive-Thru has been rescheduled to Thursday, 10/28. With that in mind, we have decided to switch our school Costume Dress Up Day to Thursday, 10/28 as well. We hope this puts our community in the spooky spirit and ready for a fun day and evening. Here are the guidelines for participating in our Costume Dress Up Day: No full facemasks, we want to see your eyes! (you still need to wear a covid mask) School Appropriate Costumes No Weapons Questions can be directed to your child's team leader.