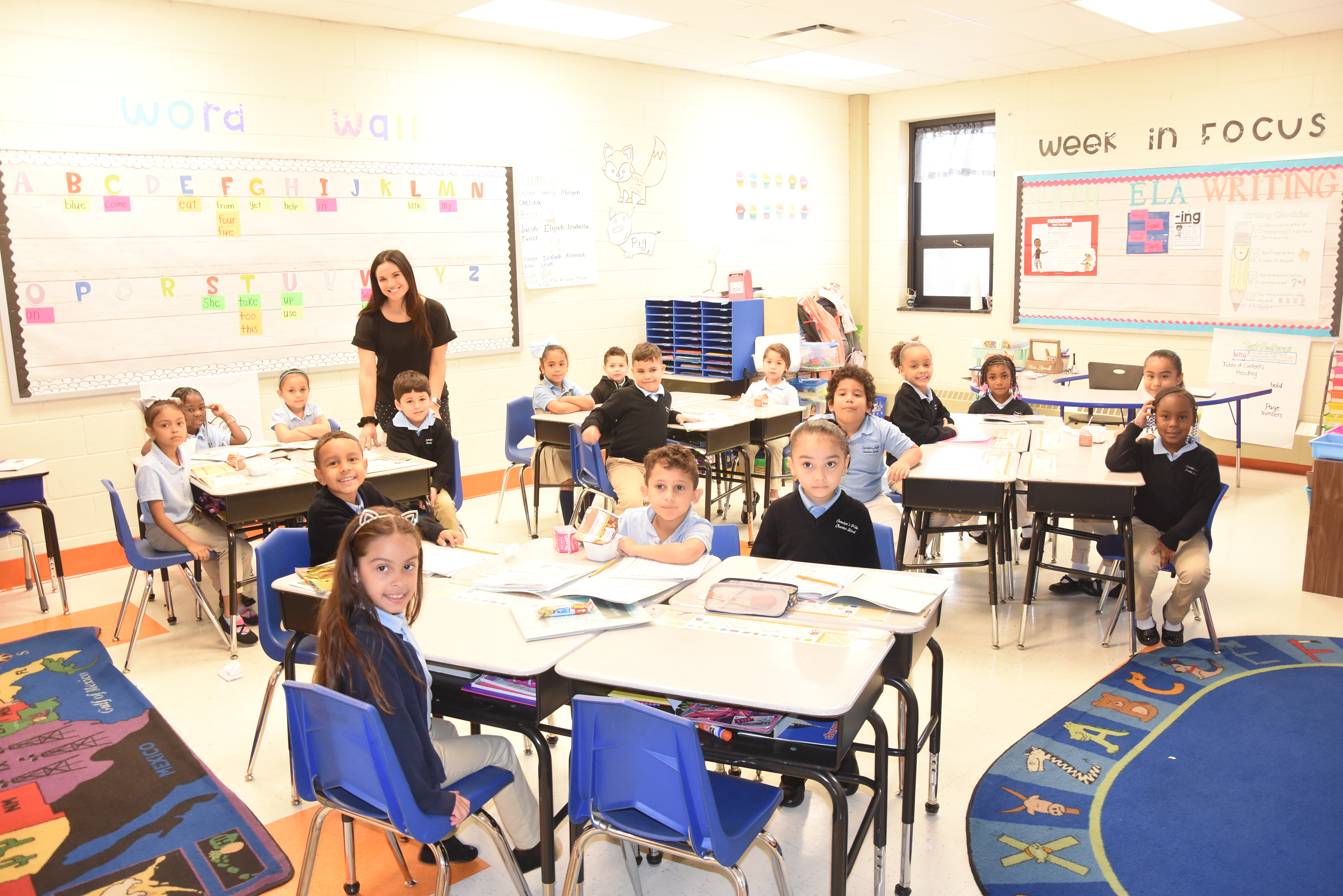 HIGHLIGHTS AND FREQUENTLY ASKED QUESTIONS
IMPORTANT DATES FOR NEW STUDENT ENROLLMENT
(The dates provided and the enrollment process are subject to change. Changes will be posted on our website. Please review our website for up-to-date information. Once submitted, all received enrollment materials become the property of Camden's Charter School Network.)
October 1 – Enrollment application opens online. Please use this link to be taken to the application form. Applications must be received appropriately in order to be considered. Please do not wait until the last minute to submit the application.
December 1 - Kindergarten Early Enrollment Lottery will take place.
January 19 – Our Enrollment Lottery will be conducted.
CAMDEN CHARTER SCHOOL NETWORK HIGHLIGHTS
Camden's Promise Charter School was the second charter school to open in 1998 in Camden. The school has grown from 100 students in sixth grade only, to over 2300 students in grades PreK - 12th. Camden's Charter School Network is the largest network of charter schools in the city of Camden.

Incorporated in 2011, the Camden's Charter School Network consists of four schools: Katz-Dalsey Academy Charter School, Camden's Pride Charter School, Camden's Promise Charter School and Camden Academy Charter High School.

In 2016, Camden's Promise Charter School merged all four schools to become one entity from grades PreK – 12.
CAMDEN CHARTER SCHOOL NETWORK FREQUENTLY ASKED QUESTIONS (FAQ)
Q. What is a Charter School?
A charter school is a public school that operates as its own Local Education Agency (LEA) under a charter granted by the Commissioner. The New Jersey Department of Education (NJDOE) is the sole charter school authorizer in New Jersey.
The NJDOE authorizes charter schools consistent with national best practice in charter school authorizing, offering school operators autonomy and opportunities for innovation in exchange for accountability for student outcomes.
Q. When was Camden's Promise Charter School Charter Granted?
Camden's Promise Charter School began in 1998 with 100 students in 6th grade. Over the past 25 years and counting, the school has expanded to include PreK to 12th grade, with over 2300 students.
Q. How Do I Enroll?
Enrollment begins with an online application which can be found by clicking here. Questions, please call Enrollment at 856-365-1000, ext. 163.
Q. What Are the Goals And Objectives?
To provide a safe learning environment.

To prepare students for the rigors of college academics.

To consistently provide educational excellence.

To teach children to be competent in reading and writing, skillful in mathematics, knowledgeable in history, science and the arts, and well instilled with the intellectual aspects necessary to succeed in mainstream contemporary culture.

To prepare students to be creative STEAM Thinkers - intuitive and analytical.

To promote a sense of personal accountability in students and help them become good citizens at school and in the community.

To promote a sense of community between school administration, students, faculty, and our families.
Q. Are all teachers Certified Teachers in New Jersey?
Yes, 100% of the teachers are NJ certified.
Q. Is Bus Transportation Offered?
Yes, buses are provided. Transportation information can be found on our website under the "Student/Parent" tab.
Q. What Are Some Of The Additional Unique Features?
Each grade level at Camden's Charter School Network offers curriculum in subjects that align to, and in many cases, exceed the New Jersey Department of Education's standards. College prep focus includes several Advanced Placement (AP) courses.

Information technology is a daily part of the educational landscape in each school. We offer students MAC Based Lab Areas for Digital Arts and content creation. For elementary students, Camden's Pride and Katz Dalsey Academy offers a bank of networked, internet-accessible computers in each classroom, as well as touch based tablets and Dell Chromebooks. At the Middle and High School levels we offer networked, internet-accessible computers, iPads, and Chromebooks provisioned for our district's 1 to 1 initiative. Our district PAC Center hosts a contemporary STEAM lab with audio, visual, and eSports applications.

Camden's Charter School Network provides explicit phonics instruction in conjunction with a strong literature component utilizing both classical and multicultural literature. In our Middle and High School, Writing & Grammar is a separate Language Arts class from Literature, providing dedicated class time to the acquisition and practice of the distinct skill of writing.

Our school year begins in mid-to-late August and ends in mid June. We offer before and after-school programs along with a summer program.

Both PreK and kindergarten students attend a full day of school.

Camden's Charter School Network is proud of our competitive music, art, swim and athletic program.

Camden Academy Charter High School offers internships and job shadowing opportunities to senior class students. Through a number of job partners, Camden Academy is able to pair each student with a job shadow or internship opportunity that closely matches their career interest or intended college major.

All students wear a uniform.
Q. What Are The Age Requirements For Attending Camden's Charter School Network?
Pre-K requires students to be 3 years of age by October 1st of the designated school year.
Q. How Is A New Jersey Charter School Funded?
Charter schools receive funding directly from the school district that sends the child to the charter school, based on a formula of either 90% of the program budget per pupil for the specific grade level in the district or 90% of the maximum "thorough and efficient amount". The sending district also distributes to the charter any additional aid provided by state and federal governments for low-income, special needs, and limited English proficient children. Charter schools also may receive private grants and donations.
Having children leave a district school to attend a charter school generally does not reduce costs for the district, which must continue educating the remaining students. To offset the funds that must be sent to a charter school, a district may either cut programs and staff or increase local property taxes.
ALL INFORMATION PROVIDED IS SUBJECT TO CHANGE DEPENDING ON STATE AND FEDERAL LAWS AND CAMDEN'S CHARTER SCHOOL NETWORK POLICIES AND PROCEDURES.